FOOD&CAFE
Eat your fill of your favorite foods at THE PARKLODGE Kamikochi's seasonal buffet that features a delectable variety of over thirty Japanese and foreign dishes!
Located on the ground floor, TROIS CINQ Kamikochi is the place to buy everything from cakes to souvenirs.
* The lunch menu is by reservation only and not included in accommodation plans.
Make reservations or learn more here.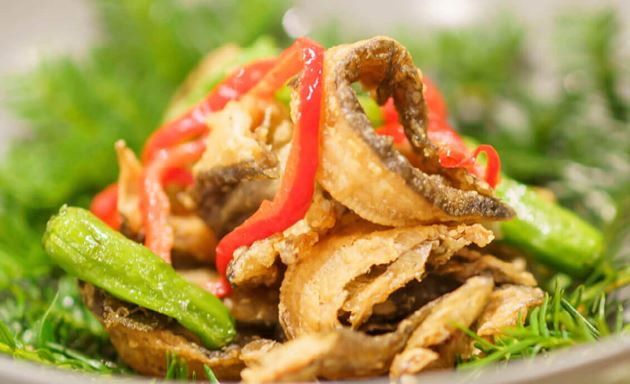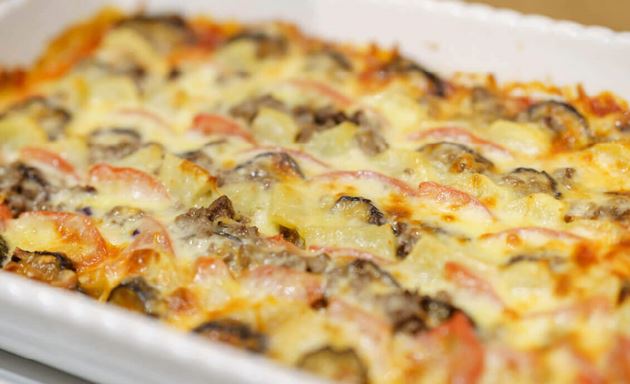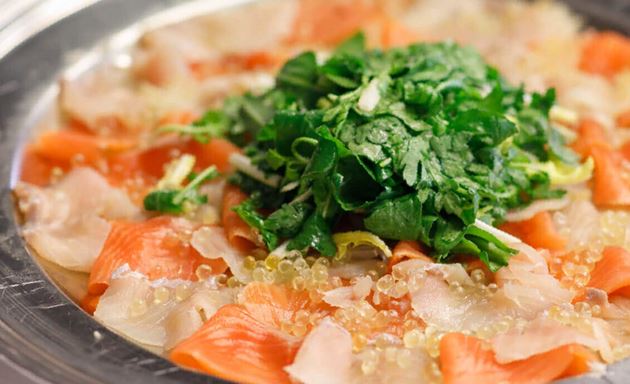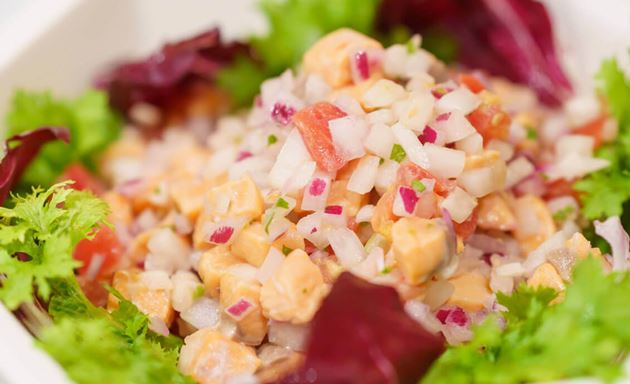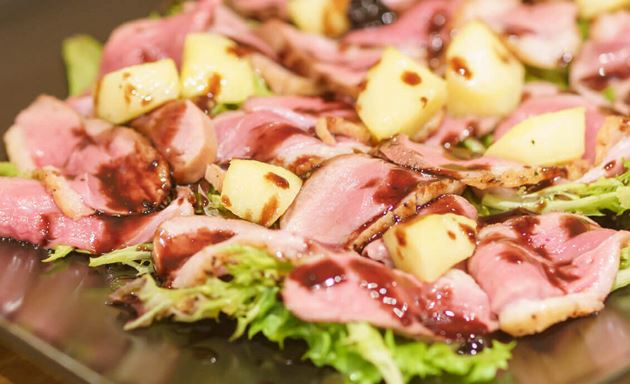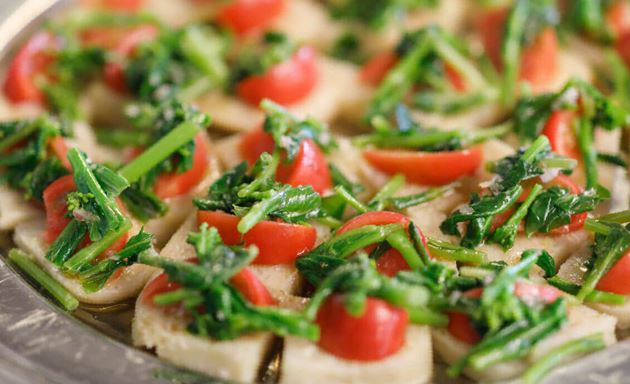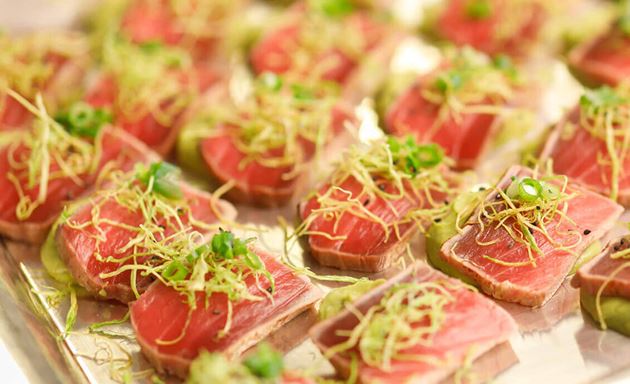 We use only the finest of Nagano's local ingredients
Our use of local ingredients and mineral water from the Shimizu River allows you to truly experience the delicious flavor of the ingredients, which is the main appeal of the cuisine at THE PARKLODGE Kamikochi.
From edible wild plants in spring to mushrooms and charcoal-grilled char in autumn, we have seasonal tastes for you to enjoy throughout the year.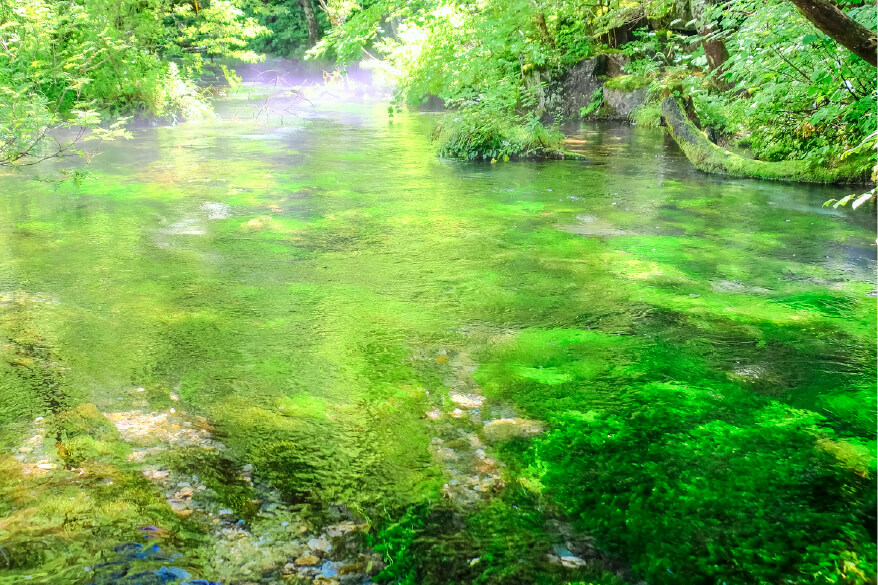 Kamikochi Natural Water
All the water used in our cooking is natural water from the Shimizu River that flows through Kamikochi. The waters of the Shimizu bubble up from aquifers fed by rain and snowfall on Mt. Roppyaku, boasting exceptional clarity that remains pure even after rain or amid drought, which is why it is such an important source of drinking water for the people of Kamikochi.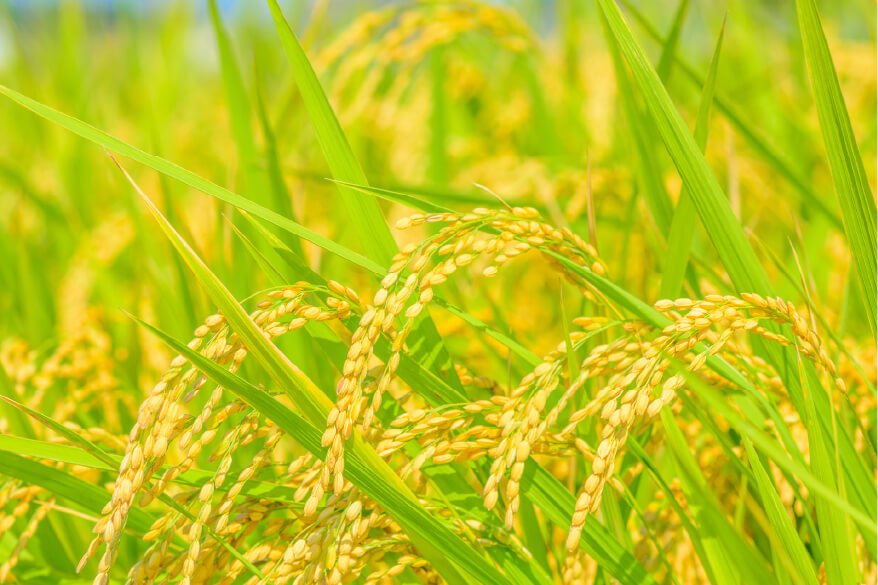 Kaze Sayaka
Nagano Prefecture's own variety of rice. The umami and sweetness of the rice makes it a delicious treat even when served cold. THE PARKLODGE Kamikochi insists on using this rice, which makes dishes shine with the perfect amount of stickiness. We use wash-free rice so as to preserve the environment of Kamikochi by not producing wastewater.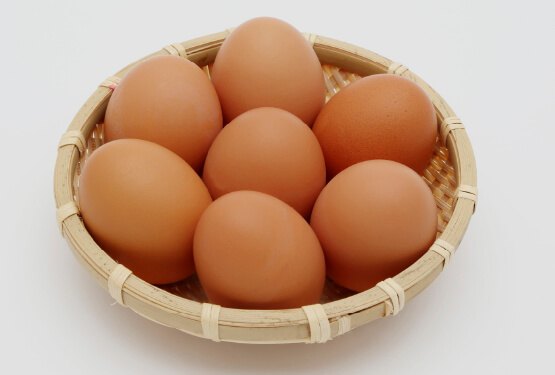 Aida's Kome Eggs
Located in the Matsumoto region of Nagano with a commanding view of the Northern Alps, the Aida Chicken Farm raises healthy chickens in the clean highland air, mixing rice with their feed to produce the high quality eggs for which they are famous.
Organic Vegetables
Matsumoto-grown organic vegetables are used whenever possible. These safe and naturally grown vegetables allow you to enjoy the sweet and aromatic tastes of nature.
Miso
We use miso produced by Marusho in Idegawa, Matsumoto. Made in the ancient Nagano fashion using as many of the original ingredients as possible, they make it from rice and soy beans grown in Nagano Prefecture, natural salt, and mineral water from aquifers.
SEASONAL MENUSeasonal Buffet Menus

SPRINGSpring Buffet Menu
Get a taste of spring with tempura made from the edible wild plants that herald the season's somewhat late arrival.
Nights in Kamikochi are still cold, so warm yourself up with some of Nagano's famous Toji Soba (buckwheat noodles).
SUMMERSummer Buffet Menu
Summer fruits and vegetables grown with the clean air and water of Nagano.
Enjoy the exceptional taste of our local ingredients until you are completely satisfied.

AUTUMNAutumn buffet menu
Autumn is for eating! The tables are adorned with colorful confections and dishes cooked to perfection.
Since you went through all the trouble of visiting Kamikochi, you can forget about your diet today and enjoy having your fill.
LUNCH MENU
The lunch menu is available only by reservation.
Those in the know are aware of THE PARKLODGE's secret menu, which we take great pride in.
* Please understand that the menu may change in part depending on the availability of ingredients.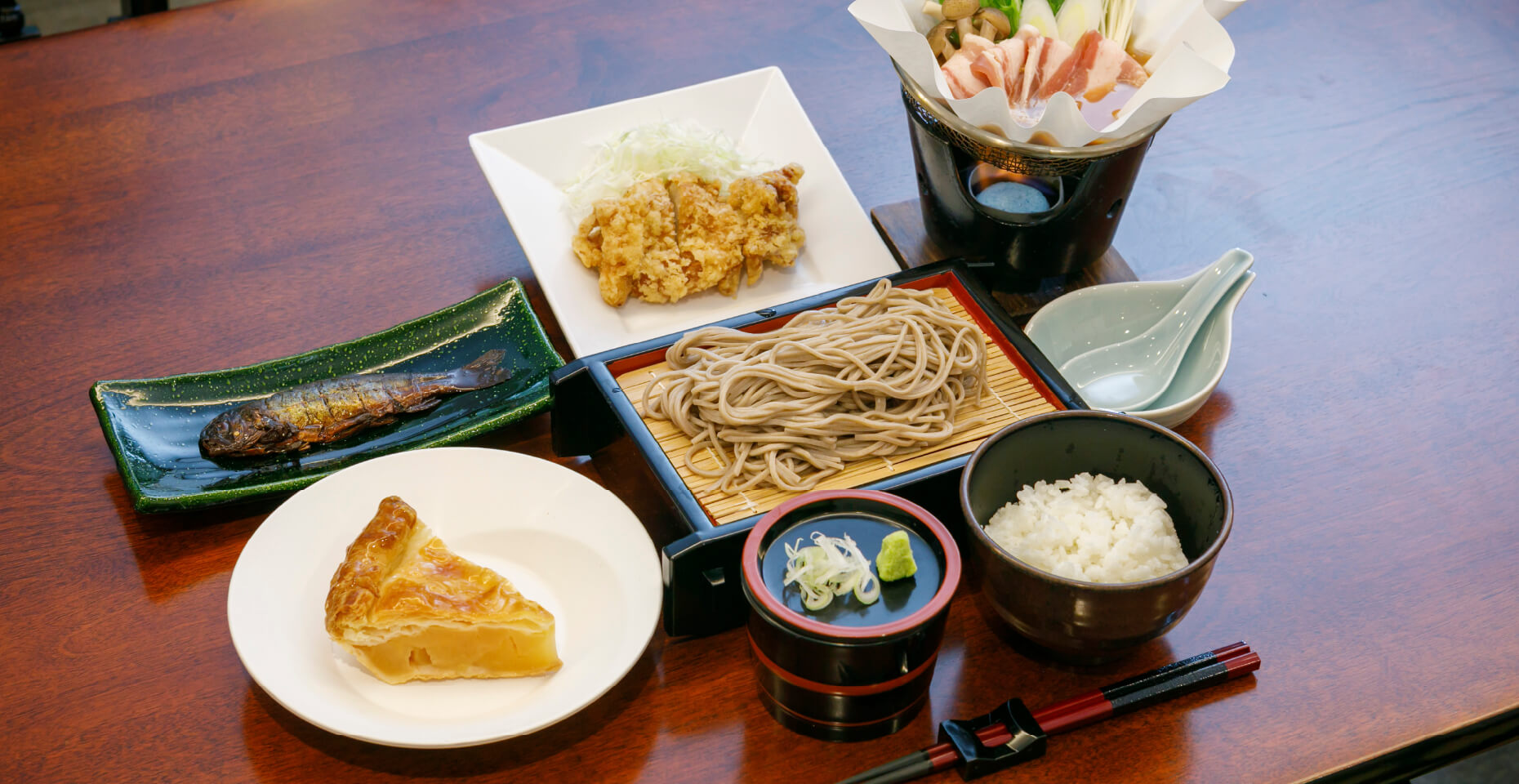 MYOJIN(2,500yen)(excluding tax)
Of course, you'll find such Nagano delicacies as soba noodles and sanzokuyaki (fried chicken), but our satisfyingly filling sets also feature dishes such as rainbow trout stewed in sugar and soy sauce, hot pot dishes, and rice.
What's more, the TROIS CINQ cafeteria attached to THE PARKLODGE Kamikochi sells the most popular apple pie you'll find in Kamikochi!
AZUSA(2,000yen)(excluding tax)
With a simplified version of the desert from the standard course, this course is a bit more reasonably priced.
HOTAKA(3,000yen)(excluding tax)
The rainbow trout stewed in sugar and soy sauce from the Standard Course has been upgraded to salt-grilled iwana (char fish) for this special course.
Make lunch reservations here
0263-95-2221
OTHER LUNCH MENUFor those seeking other lunch menus
(Formerly Kappa Shokudo)
Located on the second floor of the Kamikochi souvenir shop, they offer a set meal of sanzokuyaki (fried chicken), spicy pork curry, and more.
With an approachable menu full of old favorites, this is a great place to relax and enjoy yourself with the family in tow.
CAFETERIATROIS CINQ Kamikochi
You can enjoy the confections of TROIS CINQ, including the apple pie made from Nagano's ripe apples that's a Kamikochi favorite. We highly recommend it when strolling around Kamikochi leaves you a little hungry.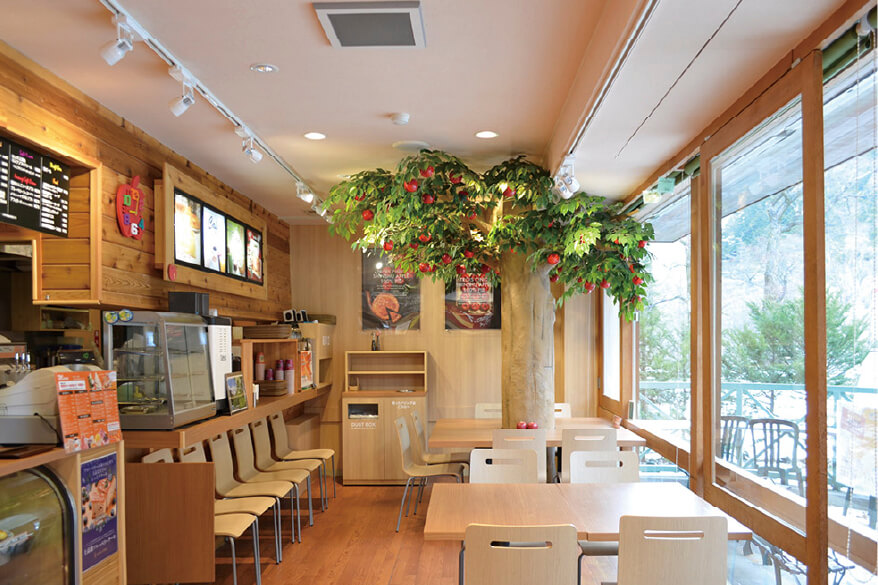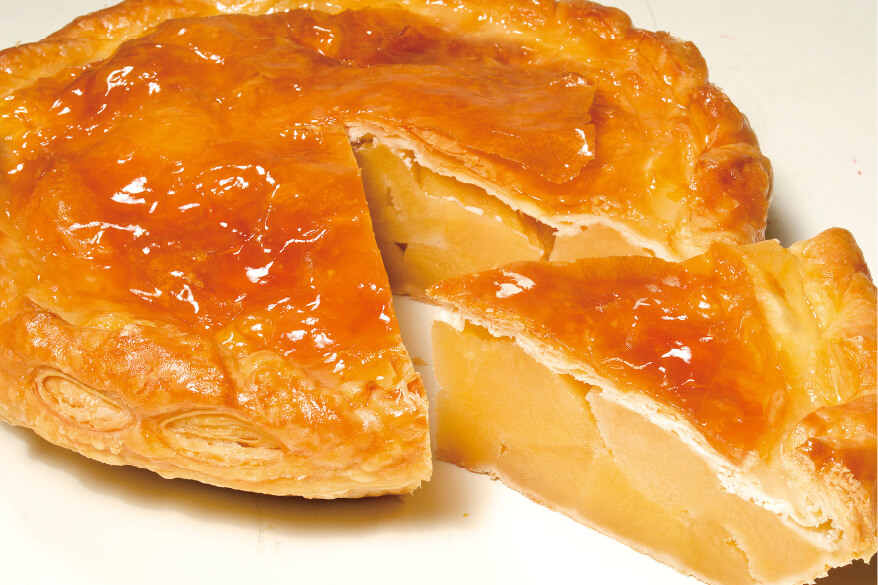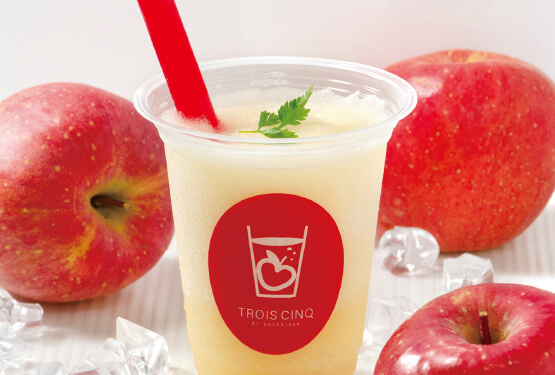 Notice: Undefined index: accesstoken in /home/gosenjaku/www/lodge/english/wp-content/plugins/instagram-feed/inc/class-sb-instagram-settings.php on line 372